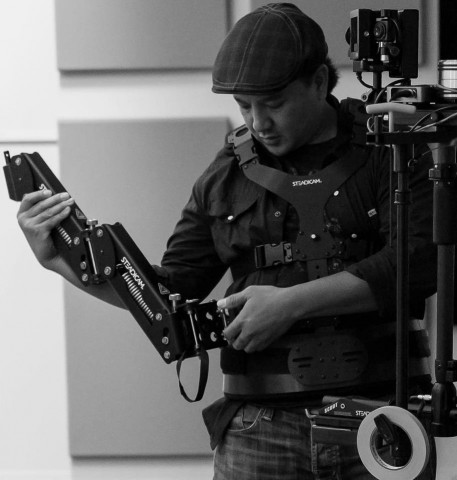 David Patrick Valera is a professional artist (photographer/digital-cinematographer/cameraman) based in Los Angeles. "I was born in Hollywood but grew up a bit East down the road in a small neighborhood called Silver Lake. Silver Lake was named Forbes Magazine America's hippest hipster neighborhoods known for vegan donuts, single-origin java, artisanal cheeses, and thick man-buns tucked beneath snow caps on a 100 degree day.  Back in the 70's-80's, Silver Lake was mostly a crime-ridden, gang infested (Silver Lake 13) mid-city grit and grime most people avoided.  Also, it is difficult to navigate through the narrow and hilly streets which confuses many commuters trying to cut through to the West Side."
A latch-key kid, David would jump on his BMX and ride down Sunset Blvd., slaloming passed Hollywood street walkers, hair-bands, and reprobates through the yet to be gentrified hoods of Los Angeles. "Urban life is a part of my upbringing and I always wanted to document those unique, chance moments I came across during my neighborhood expeditions."
David's personal projects concentrate on "Street Photography", which he has exhibited in galleries Internationally and across to both coasts.  His photographs have been featured in Los Angeles Times, LAist, Lens Culture, Los Angeles Center for Photography,  The Perfect Exposure Gallery, LenScratch, Art Photo Feature and Photoplus Expo.  He has also been interviewed by Ibarionex Perello of The Candid Frame and Street Photography Magazine.
David is currently a photography instructor at Otis College of Art and Design, DWA Artistic Development, Creator of "VIA LUX" (a photographer lecture series) as well as a contributing music photographer for L.A. Music Blog and L.A. Record Magazine.
David's creativity doesn't stop there, with over 20 years of Academy winning and nominated film credits, a member of International Alliance of Theatrical Stage Employees Local 839, The Visual Effects Society and ASIFA-Hollywood.  Currently he holds the position of Artistic Supervisor/Head Cameraman at a major Hollywood Studio.
"I make photographs of life today to share tomorrow." "Breathe Life, Visualize Emotion"
Exhibitions & Accolades
2018
2018 "I See Faces" Exhibition Perfect Exposure Gallery
2017
2017 StreetFoto San Francisco Finalist
2017 Photo 17 Zurich, Switzerland "Director's Choice Special Exhibition"
2017 Los Angeles Center for Photography Third Annual "Street Shooting Around the World" Gallery Exhibition
2017 Street Shooting Around the World Exhibition Online Gallery Winner
2016
2016 Miami Street Photography Festival (MSPF) Finalist
2016 PhotoPlus Expo Grand Prize "New York Minute"
2016 PhotoCon L.A. Los Angeles Times Finalist, Honorable Mention "Capture L.A."
2016 Hatakeyama Gallery "Lost In The City of Angels"
2015
2015 The Hive Gallery "My L.A."
2015 Japan Camera Hunter "Get Featured"
2015 Street Photography Magazine Feature (June)
2015 L.A. Record Live Photos Gallery Spring
2014
2014 L.A. Record Live Photos Gallery Fall
2014 Street Photography Magazine Featured Photographer (February)
2014 Street Photographers – Los Angeles
2013
2013 Think Tank Gallery, "You Are Here 2, Shoot A Cop"
2013 Black And White Street Hero Award
2013 Black And White Street Photography 1st Edition Book, Selected Artist
2013 Lenscratch Summer Exhibition   
2013 The Candid Frame Showcase (October)
2013 Art Photo Feature "Street Photography at it's Best"
2013 Snapshot Galleria, Featured Artist
2012
2012 Hatakeyama Gallery, L.A. ArtWalk, "Los Angeles Street Photography"
2012 Los Angeles Times, Framework Featured Artist
2012 Optical Collimator, Featured Artist Review
Contact: david@davidvalera.com
Save
Save
Save